Harbour Students and Parents
A great educational program understands that families, staff and students create a team that works to ensure that the best possible outcomes are planned for and achieved. At Harbour we understand that can only be achieved by developing strong relationships with students and families.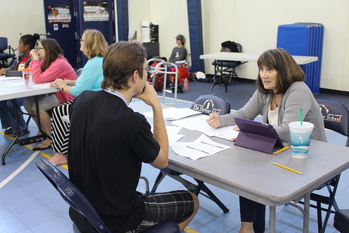 Each student has a team of school staff that includes instructional staff, speech and language therapists, social workers, a psychologist, occupational therapy staff and transition staff who come together to work with the student. Each student has an assigned IEP mentor who acts as the "go-to" person for the student and family. The IEP mentor can help with everything from figuring out your student's schedule, to what after-school activities might be a good fit to coordinating meetings and communication with the team. IEP mentors take a great deal of pride in getting to know each student, the student's hopes and the family's wishes, and helping to guide the student to a path that fulfills everyone's expectations.
Harbour School Staff's Commitment to Communication
Of course, each staff member that works with a student is part of the process and is available to answer questions, address concerns and help with program planning. Communication is a vital part of the process and staff can be reached by phone during regular business hours and by email. Staff, who are not available immediately, return calls and messages within 24 hours during the work week. In addition to phone and email, many general questions, including homework and classroom activities, are accessible through Edline. A weekly school email also helps keep families informed and involved.