News
Welcome to The Harbour School's pressroom. Here you can download and browse recent editions of the school's newsletter, find out all the details of our recent press releases, or request print copies of our publications.
Lead2Feed 2015 Press Release .pdf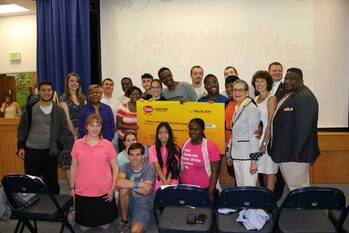 Harbour Makes the Local News! See the full story here.
Congratulations to Aaron Johnson for Winning The Emperor Science Award 
Aaron Johnson, a high school student at The Harbour School at Baltimore was selected as an inaugural winner of the Bristol-Myers Squibb Emperor Science Award. Aaron is one of only 100 recipients out of over 1200 tenth and eleventh grade students nationwide to win this prestigious award. Aaron wrote a 750-word paper answering why cancer research is important and how cancer affects us.
Aaron demonstrated his knowledge of emerging developments in cancer treatment including precision medicine, immunotherapy and epigenetics. He focused his research on learning why and how cancers develop and why scientists need that information in order to find a way to stop or cure cancer. Aaron is particularly interested in the chemical reaction in our bodies from outside environmental factors that react with our genes to cause cancer.
Aaron's personal interest in cancer stems from a close family friend dying at the age of forty-two of esophageal cancer and his own father having melanoma but diagnosed early and cured.
Aaron's hard work will allow him the opportunity to work alongside Dr. Lee J. Helman, Acting Director, Center for Cancer Research, NCI and Scientific Director for Clinical Research, CCR, NCI. In addition, Aaron will receive a Google Chrome Notebook to enhance his studies and $1500.00. He will have the opportunity to continue the mentoring program though high school to help him pursue his academic goals.  Aaron looks forward to getting into the research lab and having the opportunity to work with Dr. Helman on his work with pediatric cancer. He is excited about the prospect of having this background in cancer research to help him forward his education and possibly future career in this area.